Storefront Doors and Windows
What to look for in a Storefront Door Repair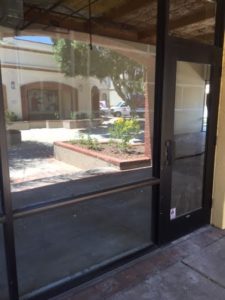 If you are looking for a storefront or business glass replacement company in Phoenix you have come to the right place. Call now for fast service 480-717-0581
When you have a storefront window break you will call your local glass repair company. Valleywide Glass offers glass replacement services for businesses in the Phoenix and surrounding areas. Common glass types for local businesses.
Dual Pane Windows will have to be measured and ordered. You will need an emergency board up service to remove the broken glass and then board up. They will install the new dual pane windows within about 7-10 days on average.
Single Pane Annealed (regular single pane, usually 1/4″ thick can be measured and cut on site. If it is after normal hours then this may not be possible depending on your size.
Single Pane Tempered glass has to be measured and ordered since you can't cut tempered glass once it has been through the tempering process. Time to wait can be 4-7 days depending on which local distributor you are using.
For a free quote give us a call at 480-717-0581 or fill out our Free Quote Form.
Recommended by DoorsWindowsCompany.com
Storefront Door Glass Replacement Company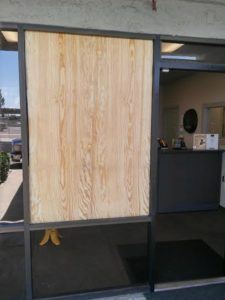 Storefront Door and WIndow Glass Board Up and Replacement