Glass Company Near Me
Valleywide Glass Company Near You!
Valleywide Glass Company operates all over the Valley of the Sun. We repair and replace broken windows, glass doors, storefront doors, patio doors and foggy windows due to seal failure. We work with home owners, realtors, business owners. Our turn around times are some of the best of all the window companies in Phoenix. 24 hour commercial board up services. We make sure your business is open the next day while you wait on your new glass to be ordered and installed.
Call now: 480-717-0581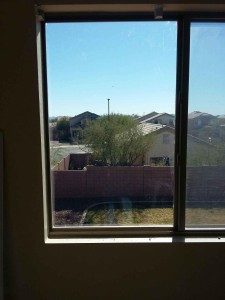 Valleywide Glass Doors Company Near You!
Easy Free Quote for Glass Repair. Please have the approximate size width and height and any details like the color/tint of your glass, is it tempered glass? Check out our Free Glass Repair Quote page and scroll down for tips on how to identify your type of window and will help you get an accurate no hassle quote.
Valleywide Glass LLC Window and Door Services
Valleywide Glass 480-717-0581
24 Hour Emergency Board Up
Many of our commercial and storefront customers need to have emergency glass services done. We operate all over the valley including Phoenix, Scottsdale, Mesa, Glendale, Peoria, Tempe, Chandler and all over Arizona. In many cases same day window glass replacement just won't be possible so your best bet in getting your store up and running again soon is to get the damaged area cleaned up, pick up any broken shards of glass and then put in a temporary plywood board cut to size to fit in the window. Although it's not the most beautiful thing in the world atleast it will be secure until your new window is ready.
Storefront Glass Replacement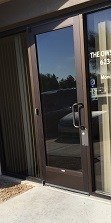 Storefront glass can be single pane or dual pane. If it is single pane the most common types of glass are tempered and laminated glass. Most likely a 1/4″ thickness. Tempered glass is a little cheaper and can take an extra day or two since it has to go through the tempering process at the glass manufacturer. Many store owners prefer laminated glass since it is hard to break through. You can break the glass but the panel will stay in place since the laminating film adhesive holds all the pieces together, like a car windshield.
Sliding Patio Door Repair
Depending on if you have a single pane or dual pane sliding door most likely it won't be replaced the same day. A few standard sizes are kept in stock at our glass shop. We have 34×76 and 46×76 single pane clear tempered glass inserts. For Dual panes we have 34×76 5/8 overall clear tempered inserts. For all other door glass you will most likely have to wait 4-7 days. We still offer the quickest turn around times in Phoenix AZ and that is without losing any quality.
Home Window Repair Services
If you have broken glass or foggy windows or doors and you need to have them replaced for a home inspection because you are selling your home don't wait until the last minute. We get many calls from people who want their window project done today, the problem is in many cases that is just not possible. We have the fastest turn around times in Phoenix. We will install your glass the same day it is ready, but even we cannot create miracles.