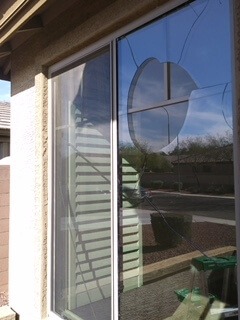 The 3 Most Common Residential Broken Glass Replacements
3 Common Residential Glass Replacement Types
Single Pane Window Glass Repairs

Most older homes and apartments will feature single pane windows. This just means the glass is one pane thick instead of two panes in thickness. They are cheaper to repair than dual pane units and in most cases can be cut on site to fit the frame. A few things to take into consideration are what type of frame does it have. The most common is an aluminum frame. If you go back a little further in time you will find "putty windows". These are separate pieces of glass in a wood or metal frame that are held in with a hardened glazing putty. It is soft when put on and after a few weeks hardens to hold the glass in. These types of windows are more time consuming and will be more expensive than metal frame windows which can be easily disassembled. In most cases single pane window glass replacement can be done on the same day if scheduled early enough in the day. For tempered safety glass, required in bath/shower areas, around pools, doors or close to the floor, this type of glass will have to be measured and ordered and can take about 2-3 business days.
Dual Pane or Insulated Glass Units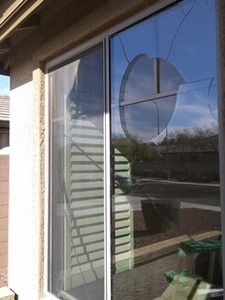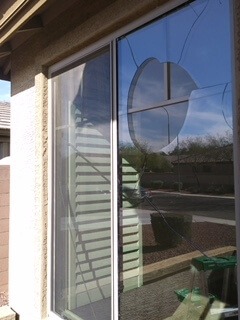 Dual pane or insulated glass units (IGU's) are sealed together at the factory. They are two panes thick, this is why you can't replace a dual pane with single pane because the frame has a certain gap that fits a specific sized glass unit. Readers can notice from the picture that just the outside pane is broken and that there are decorative grids between the panes. Even if just one pane is broken both panes will be replaced because the unit comes as one solid piece. Keep in mind that you won't have to replace both the fixed and sliding portion, just the unit that is broken or damaged. Things to take into consideration for pricing will be if it's clear glass, tinted glass, low-e energy efficient glass and if it has to be tempered glass. Turn around times for dual pane will vary from 3-4 days to 5-7 days if tempered glass is required.
Inserts for Sliding Arcadia and Swing French Doors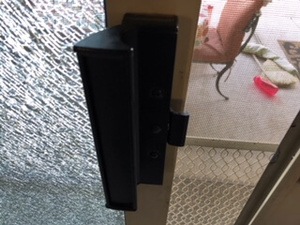 When you are getting your door glass replaced because it was broken or has other types of damage there are a few things you'll want to know when getting it replaced. All door glass will be tempered safety glass. Things that can affect the price would be the size of the unit and the tint of the glass. Many patio doors come in common sizes that we keep in stock. Below is a list of common patio door replacement sizes. If you can find which one is closest to your measurements you can call us for a free quote on a glass replacement.
Standard Patio Door Replacement Sizes
28×76
34×76
34×92
46×76
46×92
Common French Door Inserts
22×64
22×64
Next to Door Sizes 
7×67
8×80
Thanks for reading. If you ever need to have broken glass replaced in the Phoenix area feel free to give us a call:
For accurate free quotes it's best to have a little information on your end.
Approximate size of the glass to be replaced, width x height.
Look for any tint to the glass. Slight bronze, green, or gray?
1st story or 2nd story, is it easily accessible?
Valleywide Glass LLC
480-717-0581
We use the best local glass manufacturers.  Glaztech manufacturers many of our residential window replacements. Take a look at some of the features of the Low-E glass that is used in modern window systems.