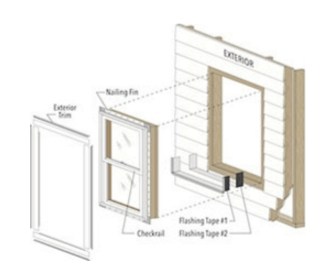 Ways to benefit from window replacement
The ways you and your home can benefit from selecting the right window replacement
In a recent publication report the US News; World Report, the average median US home price is now
3.2 times the family income. In today's age, your home should be cared for as you would carefully
monitor an investment. Look at home improvement, in the same way, recognizing the problem and
evaluate the problem and acting to solve the problem for your homes overall benefit.
When you are replacing your homes window's It can be a big project and also can rack up a big bill If you
don't look into the information and facts about that specific industry. If you do your homework, you can
shave a lot of money off of the project. Keep this fact in mind, today an estimate for replacing 5-6 wood
windows that slide up and down (double- hung wood windows, including labor, In an older house that's
80, 90 years old, it's going to be around $2000-$3000, but doing so improves your home economically,
and will beneficial long term wise.
How to know if you need replacement windows
Knowing it's time to replace your windows. Today's windows will reduce your monthly heating and
cooling bills, increase safety, and the resale value of your home. You should have a new window
an installment when the wood is damaged by water, you notice drafts when its shut, lots of outside noise
and the most important your energy bills are way too high year-round.
During the summer time, people sometimes don't take in consideration that U.V Light Rays can increase
the temps in your house creates established security and safety for you and your family.
There are 4 types of different windows that are manufactured:
Aluminum: At first aluminum was the most basic window frame everyone was using, today its not
advised because of the problems it cause's and is not a good choice for a new window replacement.
Steel: Steel is mostly used in commercial settings because of the cost it is but its reliable, durable,
energy efficient and will last a long time but the style selection is not very big.
Vinyl: Today vinyl windows is the most common replacement because of the variety of different
styles you can choose from, they are very durable and requires little to no maintenance.
Wood: Overall the most desired window frames, but problem is unfortunately, they can be expensive
and require a lot of upkeep and maintenance.
Everyone is different when it comes to the type of selection best suited for your home but it's important
think long term and quality especially when you are wanting a new window replacement.
Now obviously you have two options when you need a window replacement. You can do It yourself but
unless you have experience with windows repair or replacement, It can be a pain. Your other option is
hiring a certified professional contractor to help you choose the best window that suite's your home,
and your budget that benefits you or family In the long term.
After that find a qualified window company that can install your newly selected window. Check
for certificates, credentials and if need be documentation. Local installers should have before
and after pictures of projects they have completed or should at least show examples of their quality of
work in some form.