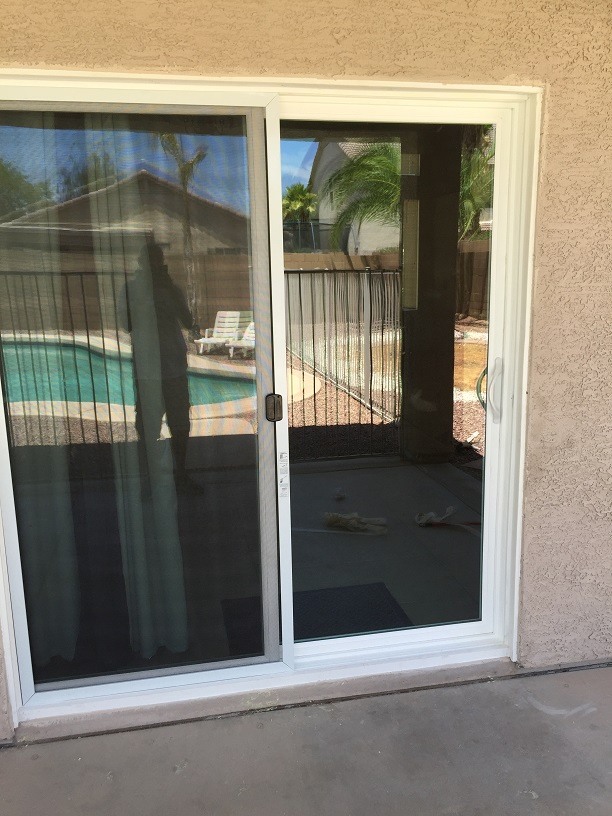 What to look for in a Patio Door
Ideas for a new replacement patio door
Homes with patios are fortunate to have these breezy, outdoor social spaces, and it's not uncommon to want to keep them in tip top shape. There is a wide variety of stylish options for furniture and decorations, among which are sun umbrellas, torch staffs and lanterns, comfortable chairs, and fun garden-themed figurines. Amidst all of these frills and frames, doors are often forgotten in the realm of interior design; they are utilitarian and go largely unnoticed. However,
However, changing up the door of your patio can revamp the entire look of the patio.
Patio Door Design Tips
First, maybe consider the possibility that you don't need to replace the entire door. Your current wooden door can be given a whole new look with a simple sanding job and a new coat of paint. You could also try replacing the glass window panel with a stained-glass or multi-pane design, or be installing a screen door to keep the bugs out while letting some air into your house while you relax outside. Even decorating around the door can also give it a fresh new feel. A fun welcome mat, some potted plants, and maybe even a small hanging sign will help your door look and feel brand new. An updated lighting setup will also improve the appearance of your patio, whether it focuses on the doorway or not.
Sliding-glass doors, with or without an accompanying sliding screen, are an extremely popular choice for patios, porches, and any outdoor social space. They let plenty of light into your home and can easily be kept more private by the addition of some curtains or shades. Just be careful with your pets and small children who might not have experience with all-glass, see-through doors!
However, a sliding door is not always possible, depending on the design and condition of your home. Knocking out part of the wall and installing a sliding door can be a pretty intense, not to mention expensive, undertaking. If a sliding door isn't for you, fortunately, there are other options. A classic hinged door with a simple white, silver, or even wooden frame and a typical pull/push mechanism, but with an all-glass face, could be the perfect compromise for you. Again, you also have the option of adding a screen door or not.
If you have a larger door frame space, you might prefer a double-door setup to the sliding door model. These double doors are a bit classier and old-fashioned, making more of a deliberate statement than the family-friendly, pet-friendly sliding doors. Double doors can be made with full glass windows, with or without a screen, or with any other customizable options.
The optimal coloration of your door really depends on your preference and what you believe best compliments your home and your patio space. You could consider matching it to the color of your furniture and other hardware or keeping a cohesive theme with the window frames on the walls of your home. If your home is brick, sided, or has a stone face about the patio door, you can decide for yourself what door you think would match the best.