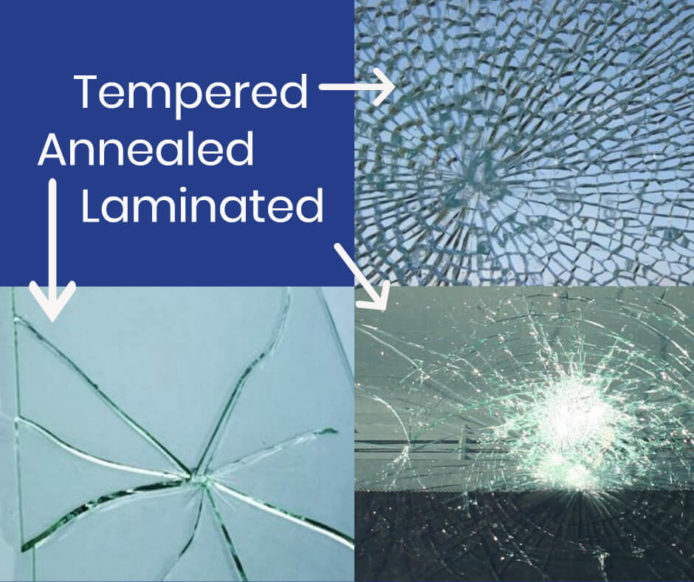 What types of glass do storefronts and businesses use
Most Common Storefront Glass Types
As with residential glass, the 3 most common types would be annealed, tempered and laminated glass. We will go over some of the differences between these types of glass and the pros and cons of each type. Annealed glass is the most common and is fine to use in most applications.  Tempered glass which is required when the window is near a door or close to the ground. Tempered glass is 4 times stronger than annealed glass and when it breaks it shatters into many tiny pieces. This makes it safer when people bump into it. One problem is that with a tempered glass a robber or vandal can break it and it will fall into tiny shards allowing easy entrance and exit. Laminated glass is two pieces of annealed glass with a film sealing the pieces together. When the glass breaks it is held together with this film and stays in place. This can be hit over and over and more glass will break but the pane will stay in place. The first thing to figure out is if your storefront glass is single or dual pane. Keep in mind that whatever frame you have determines what type of replacement you can do. You can't change out a dual pane for a single pane or vice versa.
Single Pane Storefront Glass
Single pane glass with a thickness of 1/4″ is the most common. Whether the glass is annealed, tempered or laminated safety glass depends on the application. Doors and windows that are close to the ground or near a doorway will have to be either tempered or laminated glass. For most storefront windows annealed glass is fine. The most common glass tints are available. Bronze, Gray, Green and Blue (Low-E Glass) can be single or dual pane and come in multiple thicknesses.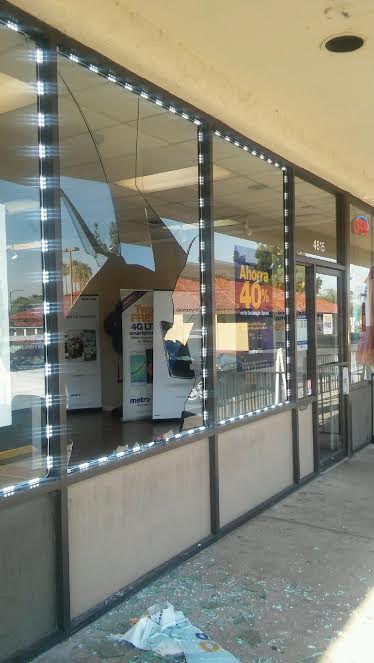 1/4 clear annealed storefront glass
Dual Pane Storefront Glass
Newer buildings usually use Dual Pane Glass units. For the most part, when comparing commercial to residential dual panes you will find that the commercial units are usually thicker. One inch in thickness if the standard. They use two panes of 1/4″ glass with a 1/2 seal/spacer. Many residential dual pane units fall anywhere between 1/2-3/4 in thickness. When it comes to commercial IGU's ( Insulated Glass Units ) they use the same glass as the single panes. Customers can get dual pane glass in annealed, tempered safety glass or laminated glass. Also, the most common tints are available such as gray, bronze, and various shades of Low-E energy efficient glass.
Storefront Glass Replacement Turn Around Times
Things to take into consideration when you need storefront glass replaced are the turn around time for fabrication. Single pane Annealed and Laminated glass can be cut on site and installed the same day in most situations. Unless the replacement is oversized or some other issue pops up same day or next day replacement are normal. For tempered glass replacements, the turn around times can vary between 2-7 days depending on the size and whether it's a dual pane or single pane unit. Most business owners who have a broken storefront door opt for the laminated glass as it can be installed on the same day in most cases and will help protect their business from vandalism and theft. For dual pane glass that has to be replaced because of failed IGU seals or broken glass, the turn around times can be between 5-10 business days.
Valleywide Glass LLC – Storefront Glass Replacement